Endemic Guides offer Eco Nature Tour which include Wildlife Tours (Elephant, Malayan Sunbear, Mouse Deer, Birding, Orangutan, Crocodile, Rhinoceroses as well as Proboscis monkey..etc), Nature Adventure (Cave Exploration, Jungle Trekking, Waterfall Trekking). We have many tours and information of the places in this website, please read slowly and decide where you want to go and what you want to see and experience the new stuff! :)
**Our intention is to bring you to enjoy the mother nature and unique beauty of Malaysia. Please Support Sustainable Tourism !
Mountain Peacock-Pheasant, Polyplectron inopinatum Movie Video & Photos Birding in Malaysia
Malaysia Birding and Bird Photographing Tour >> Read More
Malaysia Side of Borneo (Sabah and Sarawak) still remains very big piece of virgin forest that home for many endemic species. However most of the place is difficult to access until recently the local government effort to convert some of the forest reserve to become national park, game reserve and conservation area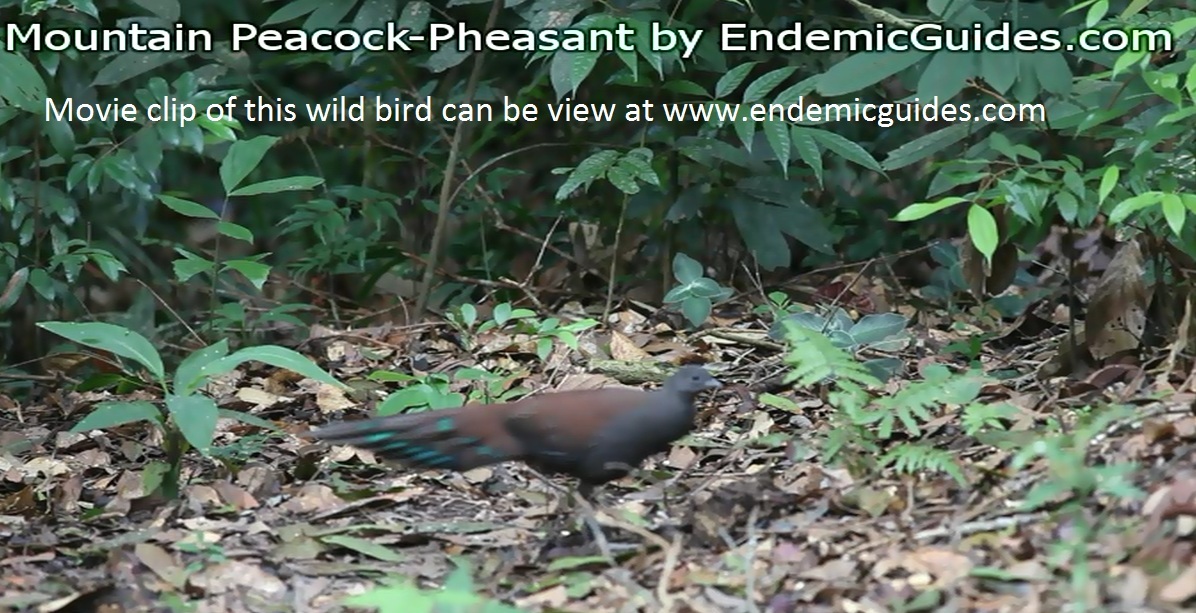 The rare capture of Male Mountain Peacock Peasant by our Guide Mr Lee kok chung
From the customer,
I was very impressed by Mr Lee and his knowledge of the birding sites and the special birds of Fraser's Hill. I had a small target list of tricky birds and we did really well, seeing all except one of them. Mr Lee really tried hard and made the extra effort needed to find some difficult species. Finally seeing Rusty-naped Pitta after a lot of hard work was a real highlight. I would highly recommend him.
(1)Mountain Peacock Pheasant,2) Garnet Pitta, 3)Marble Wren Babbler, 4) Bamboo Woodpecker,5) Chestnut-naped Forktail, 6)Malaysian Partridge, 7)Rusty-naped Pitta, 8)Malayan Whistling Thrush, 9)Barred Eagle Owl)
Regards, Philip Rostron, UK (see over 9120++ Bird species,2015)
http://www.tpwmagazine.com/archive/2013/aug/ed_1_birdclub/
Dear Jen,I've now been back in the UK for about 1 month –much colder than KL! I have a very happy memory of a day's birding in December near KL with Lee who was a superb guide. By a strange coincidence I heard a talk recently by Roberta who had been on a birding tour in Sabah – with Lee as guide. She was equally pleased in spite of persistent rain. I may well get to SE Asia & now know a good place to get help birding!
Regards, Jennifer,UK
------------------
Dear Jen,I just wanted to let you know what a marvellous guide Lee was.
He was courteous, patient, always on time and happy to tailor the programme to our needs. Above all he was a brilliant birder, one of the best I have ever met. He even got the hang of our strange British humour!

Best wishes, Nigel & Caroline Hartley and thanks to Lee
------------------
Dear Mr Lee
A belated thank you for taking me to Bukit Ringgit and Genting on 25th July.

The list of my records is as follows:

25th July
Lanchang 0730-0830
White-throated Kingfisher; Edible Nest-Swiftlet; Zebra Dove; Common Myna; Stripe-throated Bulbul; Orange-bellied Flowerpecker; Spotted Dove; Scaly-breasted Munia (=Nutmeg Mannikin); Yellow-vented Bulbul; Pacific Swallow; Starling; Brown-throated Sunbird; Long-tailed Parakeet; Common Iora; White-rumped Munia; Red Jungle-Fowl; Oriental Magpie-Robin; Pied Fantail (pic); Banded Woodpecker (pic); Olive-winged Bulbul; Yellow-bellied Prinia; Large-billed Crow; Javan Myna. TOTAL: 23
Bukit Ringgit 0845-0930
Hill Myna; Gold-whiskered Barbet; Scarlet-backed Flowerpecker; Oriental Pied Hornbill; Greater Racket-tailed Drongo; Black-bellied Malkoha; Common Flameback (Woodpecker); Ashy Tailorbird; Coppersmith Barbet. TOTAL: 9
Pond 0940-1015
Red-eyed Bulbul; Black-and-yellow Broadbill; Greater Coucal; Blue-eared Kingfisher; Black-thighed Falconet; Blue-crowned Hanging-Parrot; Black-naped Oriole; Raffles Malkoha TOTAL: 8
Forest 1030-1300
Red-billed Malkoha; Chestnut-breasted Malkoha; Scarlet-rumped Trogon; Diard Trogon; Buff-rumped Woodpecker; Ruby-cheeked Sunbird (f,m); Rufous Piculet; Maroon-breasted Monarch; Purple-naped Sunbird; Brown Barbet; Crimson-breasted Flowerpecker; Garnet Pitta; Crested Serpent-Eagle; Hairy-backed Bulbul; Rufescent Prinia; Cream-vented Bulbul; Rufous-tailed Tailorbird; Green Broadbill; [Black Hornbill]; Spectacled Bulbul; Blue-winged Leafbird; Green-winged Pigeon (Emerald Dove); Black-and-red Broadbill (2); Sooty-capped Babbler. 24
Genting 1520-1730
Rhinoceros Hornbill; White-bellied Swiftlet; Streaked Spiderhunter; Long-tailed Sibia; Common Tailorbird; Striped Tit-Babbler; Little Cuckoo-Dove; Black-browed Barbet; Chestnut-capped Laughing-Thrush; Bar-winged Flycatcher-Thrush; Sultan Tit; Lesser Racket-tailed Drongo; White-browed Shrike-Babbler; Black-crested Bulbul; Ochraceous Bulbul; Large Woodshrike; Mountain Fulvetta; Golden Babbler; Grey-throated Babbler; Green-billed Malkoha; Yellow-bellied Warbler; Orange-bellied Leafbird. 22

That totalled 86 species, excluding the following four which you heard but which I didn't count, wanting to identify them "properly" the first time.

[Blue-eared Barbet]; [White-breasted Waterhen]; [Lesser Coucal]
[Blue Whistling-Thrush]

We also saw
Long-tailed Macaque; Wild Boar; Pygmy Squirrel; Common Birdwing Butterfly; Jungle Nymph Butterfly; Dragon-Lizard; Spectacled Leaf-Monkey; Pig-tailed Macaque

Even though I didn't join you solely to get a long day-list, the 86 far exceeded the indications on your website, and I felt that I wanted to write something by way of recommendation:

"I have been birdwatching for over 25 years, but was seriously impressed by Mr Lee's ability, not only to spot birds in the distance, but to get the 'scope onto them so that I could see too".

Thanks again
Nigel (UK)
18/08/13
Krystyna and I want to thank you so much for making our stay in Malaysia so memorable. 161 species in four days including some of the most difficult birds which we would have had no hope of seeing without your assistance. Tell your boss you are worth more money.
We have already passed your firms and your name on to other members of the Central Coast Birding club of New South Wales who may be interested in visiting your country and, to our travel consultant.
Our special thanks for guiding us in ventures into the local foods; Krystyna is trying to replicate some of the tastes while our daughter-in-law tempted me with a birdseye chilli which I managed to eat. Palate seasoned to the tastes of Malay cuisine?
Thanks again and please use our reference to any birders who may be thinking of using your company or particulaly, yourself.
Noel and Krystyna Lonergan 2013
-------------------------------
I just wanted to say thanks for the excellent trip last week. I really enjoyed myself and saw lots of wonderful new birds - highlights being the Garnet Pitta and Great Hornbill - when I tallied up there were 57 lifers in total!

I will definitely recommend your services - and will be in touch when I am next in KL to visit Fraser's Hill. I am happy to be used as a reference on your site too.

You have my email now, so if you do ever make it to Australia let me know and I will happily show you around the Melbourne area - we have some wonderful habitat here...

All the best,

Ed
Orangutan in Malaysia, Borneo >> Read More
Orang utans make nests in the trees out of twigs, leaves and small branches in which they sleep in at night. Usually they make a new nest every afternoon, sometimes resting during the day. Orangutans are solitary animal and their main diet consists of fruits, leaves, barks, shoots and birds' egg.
Just a short email to say how much we enjoyed our trip to the Danum Valley, Kinabatangan and Sepilok which you arranged for us. We had a wonderful time with great experiences both on land and on the river, were extremely well looked after and had many superb wildlife sightings, including two orang utan Mothers in the wild with their young; one of them was making up her nest for the night and that was an extraordinary experience. All arrangements worked like clockwork, and I'd like to thank you for the efficiency and positive, helpful and friendly attitude with which we were met throughout our stay. Borneo is a beautiful country and I am sure I will be back one day and I will certainly recommend it, and your organisation, to friends who enjoy wild life holidays.

Thanks again.

Best wishes
Adrian McLoughlin March 2008
| | |
| --- | --- |
| | |
Know about the Giant Red Leech In Malaysia ? >> Read More
The Kinabalu Giant Earthworm is one of the awe-inspiring creatures. A full 70 cm long when stretched-out, the animal is not your average garden worm. It is grey-bluish and lives in burrows in the soft and thick soils that build lush forest around Paka Cave shelter, at some 3,000 m above sea level.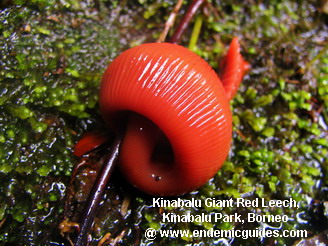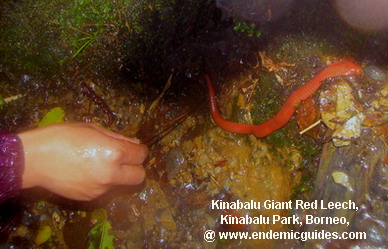 Then, how about the blood sucker in the forest ? >> Read More
The leeches in the rainforest are particularly "vicious" and really blood-thirsty. As you make your way in the wet rainforest trail, you will realise and learn how just how blood-thirsty they are. There are leeches just about everywhere, somersaulting and quivering in all direction.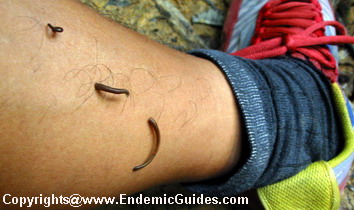 Tropical = Relax = Enjoy Malaysia Rainforest & Chilling Waterfall
Best place to Watch wildlife? > Kinabatangan River (Sukau) Borneo
The Kinabatangan River is one of Borneo's longest and most majestic rivers, originating in south west of Sabah, it flows for 560 kilometers (347 miles) through eastern Sabah to the Sulu Sea on the east coast. The banks of the Kinabatangan River are predominantly covered with river vine forest.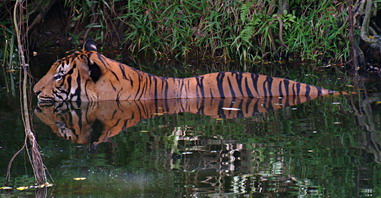 How about the biggest flower in world? >> Rafflesia in Malaysia
Rafflesia are endemic to Southeast Asia recorded 17 known species, the Rafflesia flowers have been found only in Indonesia - Sumatra and Java, Malaysia, including Borneo island and south Thailand. Rafflesias have small, brownish, scale like leaves and fleshy, foul-smelling flowers of various sizes from few inches to meter big in diameter. Rafflesia classified as parasite.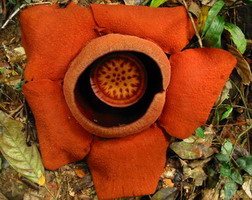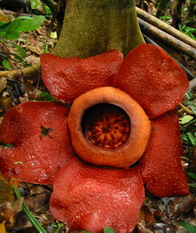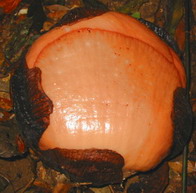 Some Comment - My wife and I went on the Elephant tour in Dec. 2006.
What a fantastic day it was. Picked up at the hotel spot on time, our guide and driver were lovely people. There was a Husband, Wife and two young daughters in the minivan with us. The guides could not do enough for us from arranging Toilet stops, organising the inclusive lunch and taking photo's with our camera's as well as there own camera.
The CD with the pictures on was waiting for us when we got back home from visiting our son in Australia 3 wks later. This was a fantastic start to our holiday, we were only in KL for 2 nights but rest assured we will be returning both to KL and the Elephant Sanctuary.
I highly reccommend this tour to all ages.

Ron Godfrey
Oxford
England 2006
Ask our friendly tour consultant for your next traveling ! click here
Bako National Park
Fairy Cave
Dolphin & Mangrove
Miri, Sarawak
Longhouse Tour
Lampir Hill NP
Gua Niah NP

Malaysia
Client Feedback:
Sorry for taking so long to write to you. We are back at work in Papua New Guinea now and things are crazy here - as usual.

Our time in Danum Valley was great. The food and the service at Borneo Rainforest Lodge were particularly outstanding. It rained heavily every afternoon we were there, so we didn't get to do as much bird-watching as we would have liked. But we made the best of every morning and saw some really great birds. We really enjoyed ourselves.

Overall, our trip to Sabah was fantastic. I think it was the best holiday that I have ever had. We really didn't have any complaints about anything, the whole time we were traveling.

Many thanks again to you for making our planning and our holiday work out so well. We will certainly recommend you to anybody we know who is planning a holiday in Malaysia. And we are thinking that we might go back there again within the next couple of years, so we might be in touch again. If we are ever in KL for any reason, we will certainly look for you.

Thanks again and Best Wishes

From Dr Robert Mckay (20 days tour for Kinabatangan river, Maliau Basin, Danum Valley and Tabin Wildlife reserve)